Update late August:
Most all roads in Buffalo County are open thanks to our excellent highway department. All main roads to the farm are open.
Update Friday August 12th, 9am:
We will be open tonight. However road access is still somewhat limited in Buffalo County.
From Hwy 35 in Cochrane, take Cty Rd O. Take a left on belvideere ridge, and then your first right down Yaeger Dugway.
From Alma, Cty Rd E is open to Cream. Take right on 88 for 3 miles and a right on Yaeger Valley Road, then left on Yaeger Dugway.
Access from Waumandee is currently closed as a bridge is being repaired. Status unknown if bridge will be fixed by tonight.
I believe the only access from Hwy 37 is to go to Alma and come over on Cty Rd E to Cream.
Please drive carefully and keep the many people hit by this storm in your thoughts as they work through the clean up.
Posting from Thursday, August 11th:
Our local area was hit with 6-8″ of rain in a short timeframe Thursday, August 11th. Travel is currently not recommended in Buffalo County but please check the sherriff's website for current status reports.
Hwy 88, 37, and Cty Rd E all provide access to the farm and sections of these roads are currently closed.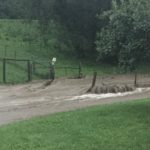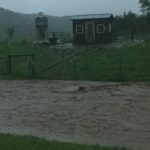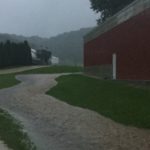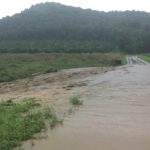 Here's the status report of road closures as of 1:30pm 8/11/2016:
Travel is not recommended! Flooding is occurring Throughout Buffalo County.
State roads 37, 121 and 88, County roads U, X (bridge out), E, EE and N. OO Rail line is out. Buffalo County Emergency Management recommends no travel on all roads until further notice.
This is a developing situation. Updates and advisories regarding the flooding will be posted to the Buffalo County website as needed
9:13 am Update. Emergency Management has activated 211 for property damage assistance. Report Buffalo County property damage as result of the flooding by dialing 211.