Click Here to be directed to our Winter CSA Store (for Winter CSA members only)
Create a Winter CSA share that best suits your family's taste and preferences!  Some people like the convenience of already frozen soups. Some like to cook their own food. Everyones' tastes differ and some members have dietary concerns. We have created this farm store to give our winter CSA members a way to personalize their CSA box depending on their tastes, cooking preferences, and dietary needs.
In the WINTER CSA Store, winter members can select either 2 quarts of soup of their choice from our inventory, or other items from the farm that equal the value of those 2 soups. Each member is given a $15 floating balance in the store for each winter delivery. The soups and other farm foods have a monetary value in the Winter CSA store. This allows each member to choose an equal amount of goods from Suncrest Gardens. The goal is to keep your Customized Winter CSA store balances near $0 per delivery. So if the balance goes a little over one week, the next week's share should be a little lighter to accommodate this fluctuation thus bringing your balance back towards zero. Invoices will be sent if a balance is owed over $20, or at the end of the CSA winter season.
If you do not customize your winter, you will receive 2 quarts of soup per delivery of the farmer's choice along with the other regularly packed items.
Winter share contents…
Fresh or Stored Items:
Potatoes 3#, Carrots 2#, Onions 2#, Parsnips 1#, Celery Root, Radish/Beets, Cabbage/Fresh Greens as available, 1 dozen eggs, occasional fermented item such as pickles, pickled beets, or kraut, Fresh or Frozen Squash
Frozen Items:
1-2 quarts of vegetables such as green beans, broccoli, corn, sweet peppers, diced tomatoes, spaghetti sauce
2 quarts of soup (customized or replaced with other items)
1 quart of fruit/baking item: raspberries, rhubarb, squash puree, zucchini, raspberry jam
1 quart vegetable stock
Specialty item (occasional): pesto, dried tomato or spices, etc
PLEASE NOTE: The customization option is only available the week before delivery and will close Monday evening the week of delivery. The customization option will be disabled after the deadline to allow Farmer Heather time to prepare the delivery for that week. 
If an item if "sold out", it is because we are currently out of inventory. This status could change during the season depending on the product.
# of CSA deliveries during this Winter Season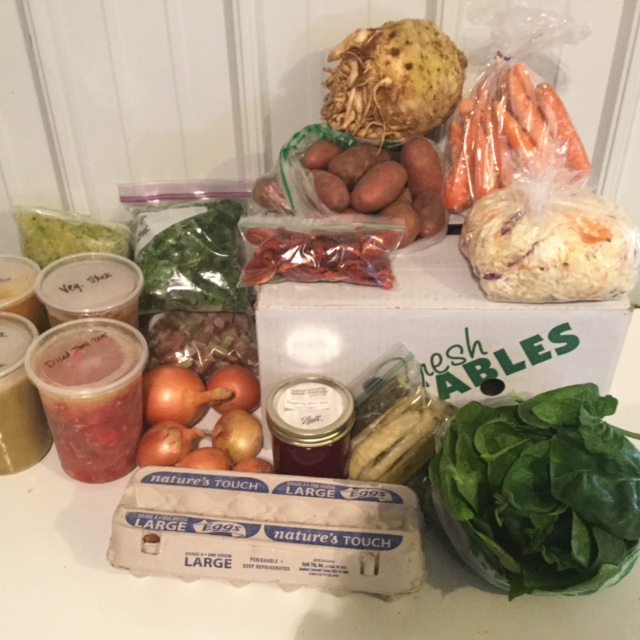 Date of Winter Deliveries (Wednesday's)
Pick-Up Site Info & Contact Info
Winona: 1215 W 5th Street (Kerr Residence), Wed 4-6pm
507-474-1842
Rural Cochrane: Suncrest Gardens Farm, Wed 2pm-Sat noon
608-626-2122
Pick-Up Guidelines
It is your responsibility to pick up your share during your selected sites scheduled pick date and time. If you are running late or neewd to make adjustments for pick up, please do so prior to the end of the scheduled pick time. Shares will be forfeited if you do not pick them up during the scheduled pick up time, or if you have not confirmed alternate arrangements for your share. An attempt to donate forfeited shares will be made so as not to waste food.
Shares are picked up using the honor system. Your share will be at the site during the scheduled pick-up time, but your site host may not be present. Please being a box, bag, or crate to transfer your food into to take home. Carefully unfold your box and lay it in a neat flat, pile at the pick-up site. We do accept clean egg cartons. Leave them at the pick-up site piled neatly.
If you are unable to pick up your box on the pick-up day or within the scheduled timeframe, here are some options…
Have a friend or neighbor pick it up for you.




Request your share to be held at the farm.

Make arrangements with the pick-up site host.

Ask the farm not to pack a box for you that week. A make-up share could be sent a different week. *Requests must be made by Monday the week of delivery.