Onions 1.5#
Garlic, 2 bulbs
Kale, 1 bunch: slow cooker tomato, kale, quinoa soup
Tomatoes, heirloom, slicers, roma: 2#+
cilantro, 1 bunch: cilantro lime chicken
Yaya carrots 1.5#: Crockpot Beef Stew
kennebec potatoes 2#
celeriac (use like celery, but cube and cook it)
watermelon radishes: watermelon radish salad with Asian citrus dressing
Carnival Squash: curried lentil stew
Pie pumpkins: pumpkin alfredo
Cole slaw cabbage mix
Mixed Salad Greens
Spinach: Baked spinach and eggs
Organic Pasture Raised Eggs, dozen
This is the longest tomato season I've ever experienced, and I hear no one complaining! I have a few different soup recipes linked above as we begin enjoying the warmth and ease of preparing soups. Unfortunately, my husband Jason is not a fan of soups but I've learned that if I have some rice or couscous prepared, he can add it in with less broth and we call it a casserole. Sometimes little tweaks like these can make everyone happy in the house while sticking to my rule of only cooking one meal for the family.
Here's a picture of our fall decorations in the barn. I just love all the colors of fall. We had a wonderful Dinner on the Farm event celebrating the flavors of fall. Seventy guests joined us for the meal and it was a delicious success!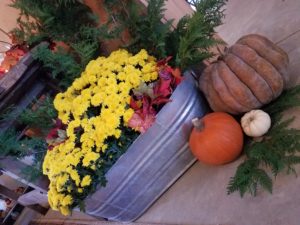 The boys and I went on our annual fall camping trip. This year, we flew to the state of Washington and camped in Mt Rainier National Park and Olympic National Park. The weather was fabulous and the wildflowers were blooming in the mountains. Flying and camping was a new adventure to all of us and we thoroughly enjoyed the trip.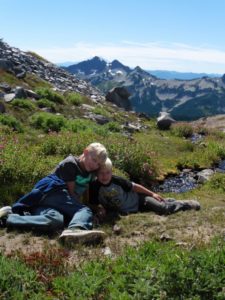 Happy Fall!
Eat Well. Smile Often.
Your Farmer,
Heather