Onions 1.5#
Garlic, 2 bulbs
sage
Kale, 1 bunch: kale salad with acorn squash
YaYa carrots 1.5#: Baked Carrot Fries
kennebec potatoes 2#
celeriac: apple & celeriac soup, celeriac mash
watermelon radishes
Carnival Squash: baked squash with mushrooms & sage
Butternut squash: 17 butternut recipes
Mixed lettuce and arugula
Organic Pasture Raised Eggs, dozen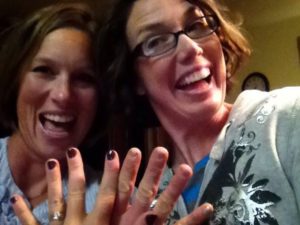 Here's a fun picture from Mercedes and I from last fall. Over the last 3 years of her being at the farm, we have certainly become good friends and have had a lot of fun while working our tails off. This is Mercedes last month at the farm as she transitions to new adventures and a winter in Mexico learning to become fluent in Spanish. She will return to the farm next spring in a different role with less hours, so she will still be around but not as often as she makes time to pursue additional interests in the community. How wonderful that our community gets to continue to have her present! We wish her "happy trails" on her new adventure!
Rachel, who joined us this last spring, is now going to continue in the year round assistant farm manager position. Rachel has been a vibrant asset to the team this summer and is full of passion for the farm and sustainability. She will be at the Winona Farmers Market throughout the fall and winter season.
Eat Well. Smile Often.
Your Farmer,
Heather