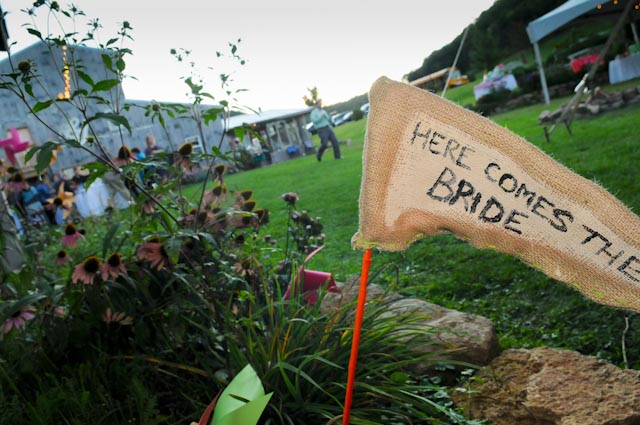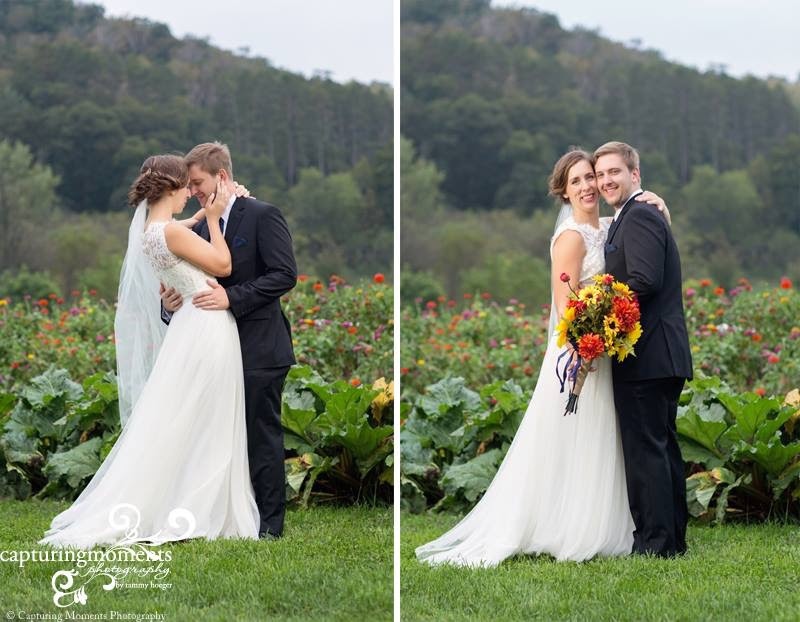 Are you considering a farm wedding? Do you desire a more casual wedding where the focus is about you as a couple and the sharing of your special day with friends and family?
Suncrest Gardens offers a working farm that centers around growing real food in a sustainable way while providing garden habitat and space for community to gather in our beautiful peaceful valley. You can tell that this land is loved and cared for every day. Flowers, gardens, a terraced lawn, and farm animals all come together to create our sacred place.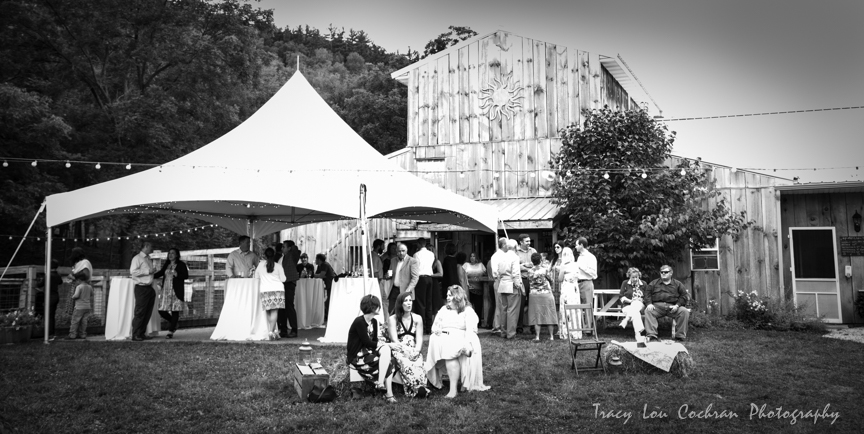 Our rustic barn sets the stage as a backdrop for the yard. The barn can accomodate up to 70 people seated or can be a place to moderate the outside weather conditions. Food is often served in the barn on a long buffet table. A dessert station and gift table set with your personal decorations and pictures can transform this space to reflect your own style.
To accomodate larger groups, tents are often rented with tables and chairs in the style of your choosing. Two different tent companies have worked with us for many events. You work directly with the tent companies to reserve and select your items. Mar-V-Les Tents in Waumandee, WI is located 5 miles down the road and offers a local economical choice for your seating and tent needs. Majestic Tents from Rochester, MN is more expensive due to a farther driving distance, but offers a larger selection of rental items depending on your needs. Remember to always request tent sides and lighting!
Many have began their marital journeys here, including ourselves. Suncrest Gardens is a natural environment that reflects our stewardship values, love for the outdoors, and life a little less commercialized.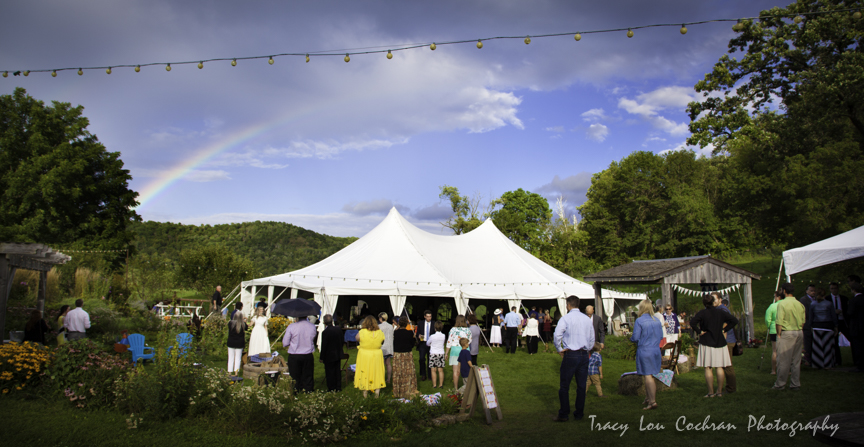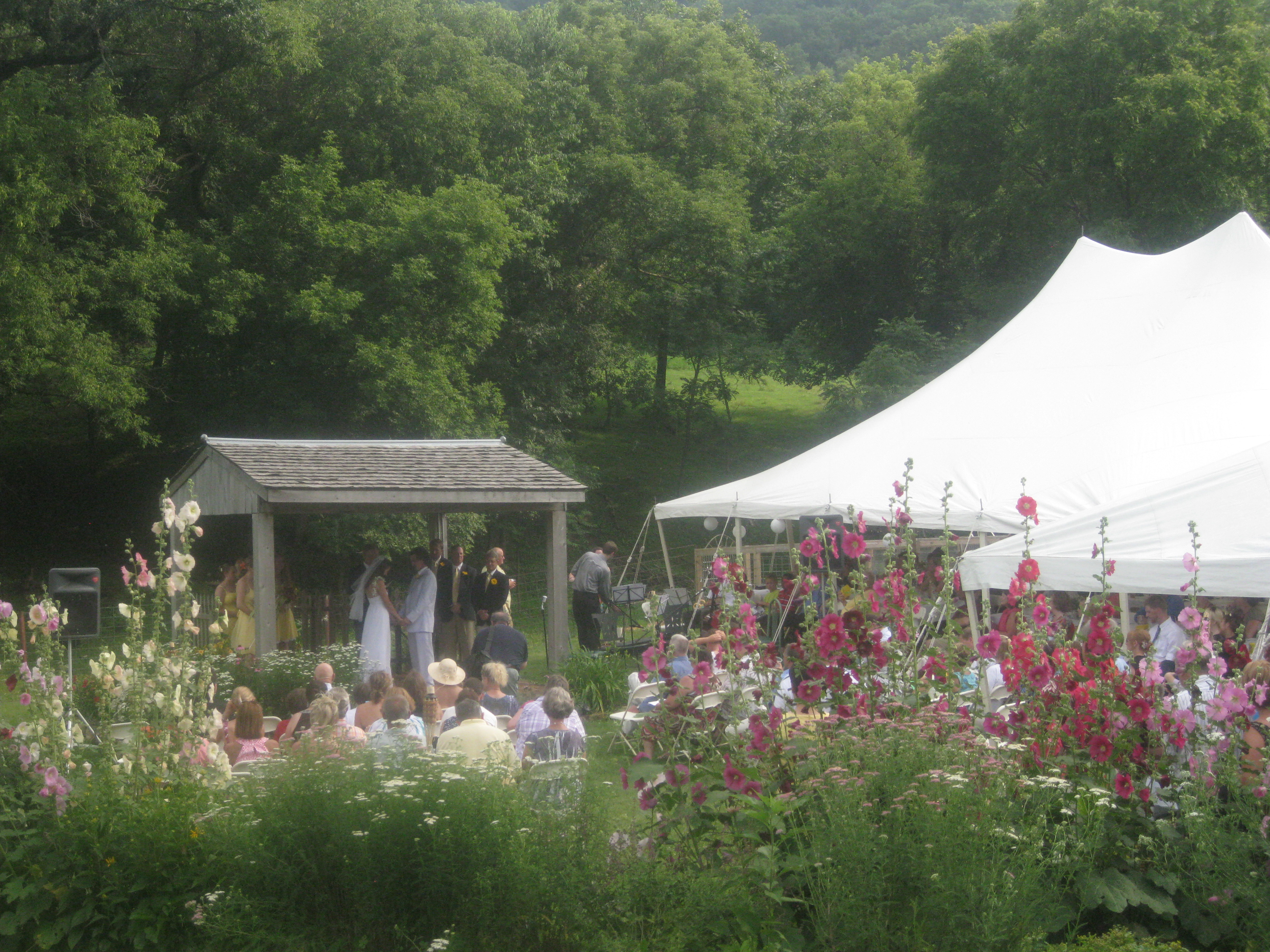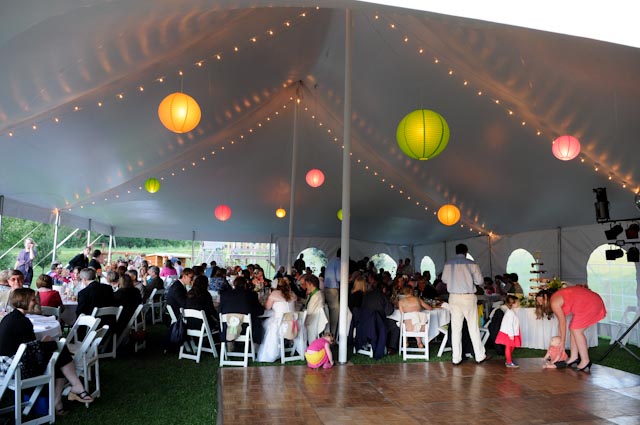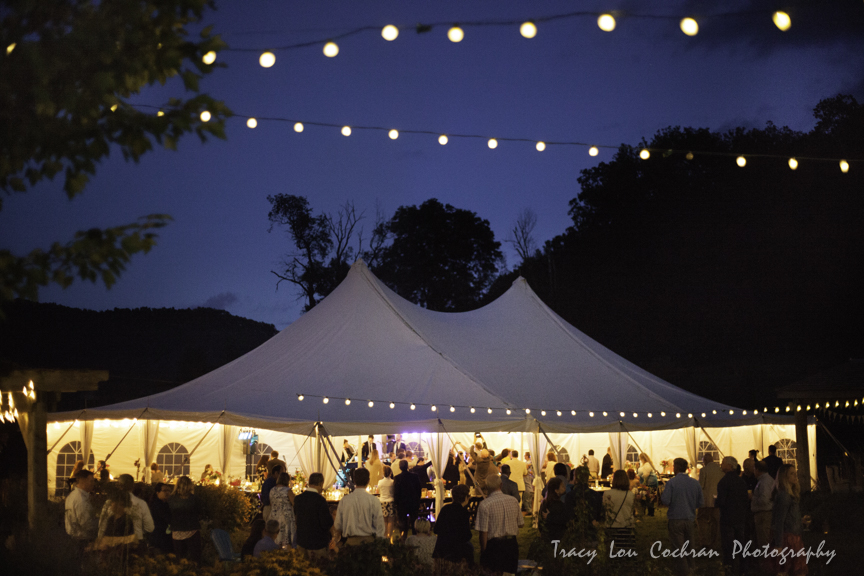 If you would like your event to include children, Suncrest Gardens makes a great site to host families and friends of all ages. We have an area for farm animals to be near the festivities which many guests find entertaining. Children love to play on the playground which is off to the side of the yard, far enough to not be in the middle of everything, but close enough to have parents keep an eye on them.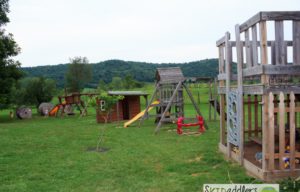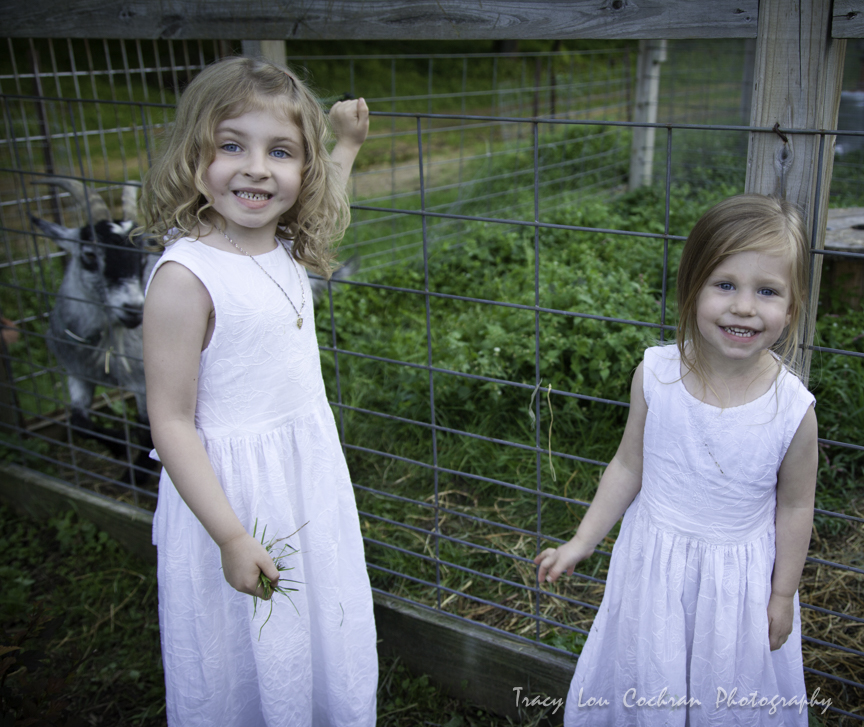 Suncrest Gardens farm can supply you with fresh, seasonal items for your food needs or source them through other local producers. These local foods will be incorporated into the foods you request for the buffet or can be delivered to your caterer to utilize in your menu.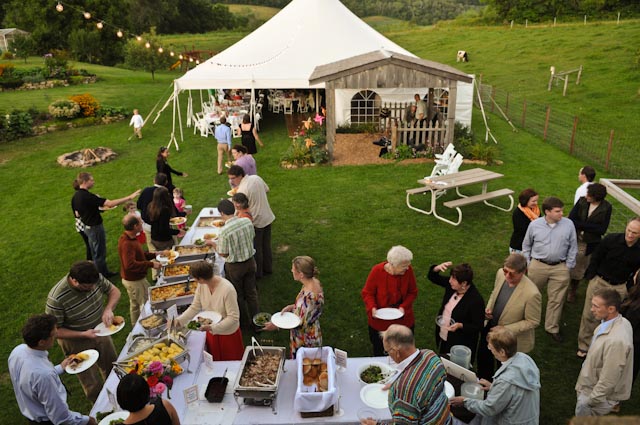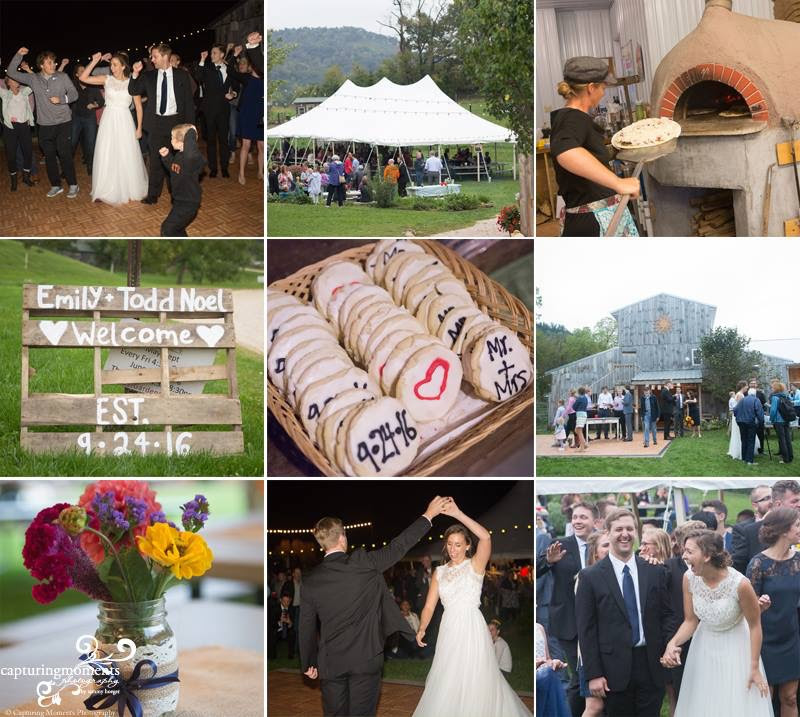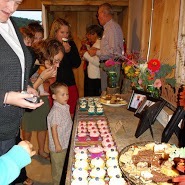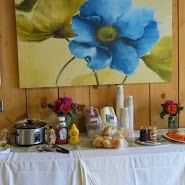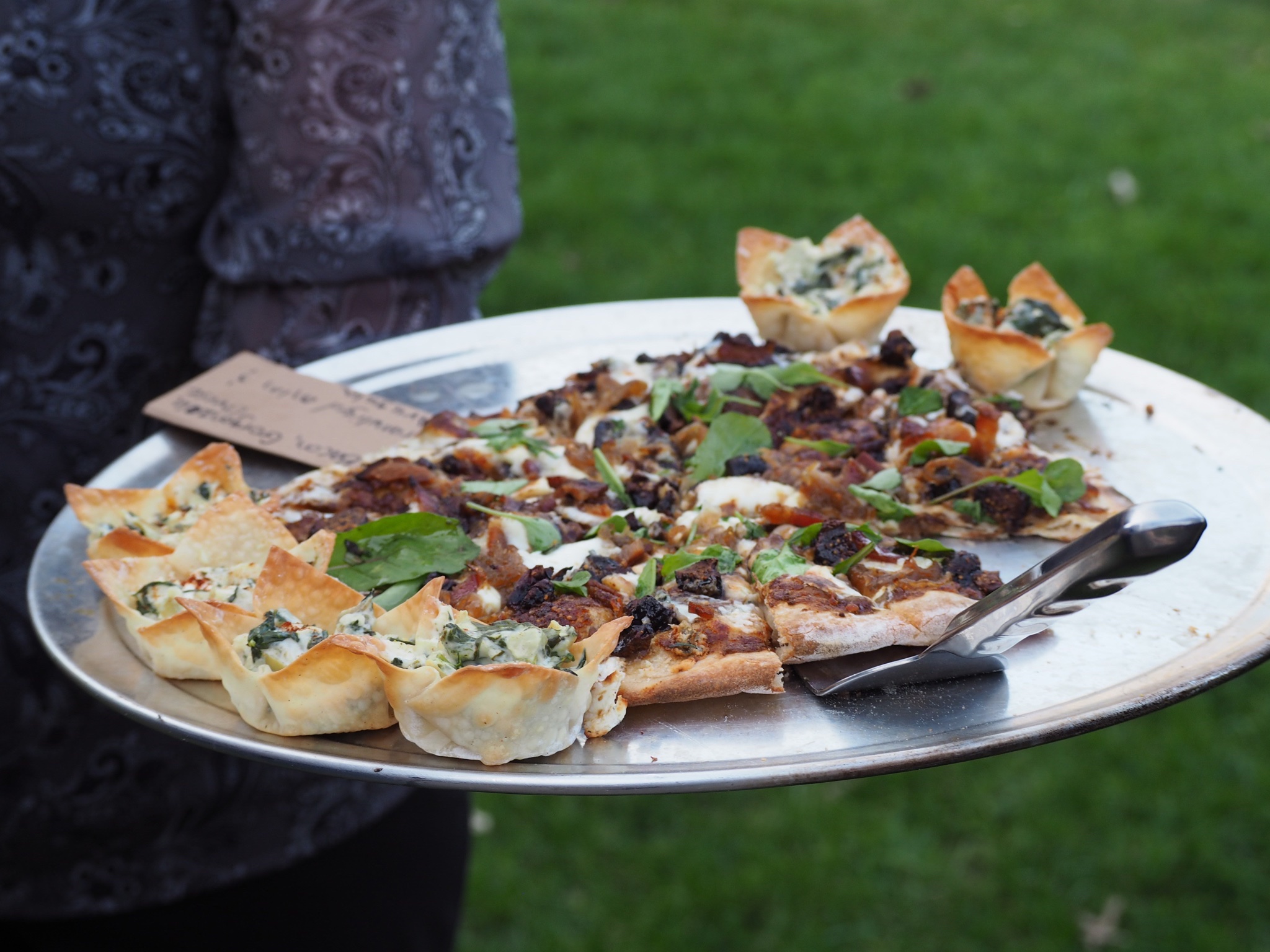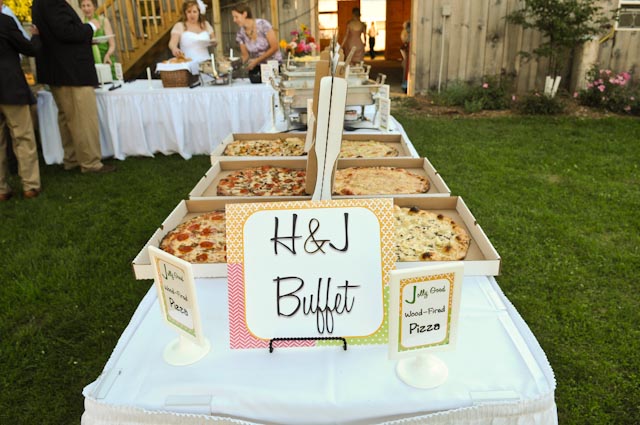 Contact us for availability or a tour
Set-up may begin at 8am
Event ends by 10:30 pm on Saturdays (or Fridays on non-pizza nights). Allow 1 hour for clean-up afterwards.
Event ends by 9:30 pm on weekdays or Sundays. Allow 1 hour for clean-up afterwards.
An hourly rate of $75/hr for clean-up will be charged and taken from the deposit starting at 10am the next day.
Full day use of the facilities: 8am-11:30pm
Only one wedding booked per month so our energy is focused on you for the day of your special event.
Private use of the facilties including parking, barn, garden and yard space, picnic shelter, and playground.
Campfire is provided at night weather permitting and with authorization from your tent company.
Recycling and garbage service.
Composting toilet facilities.
On-site farm manager during event.
Playground for children.
Space for guests to walk around the gardens and view farm animals.
Not included: plates, silverware, glasses, tablecloths, table skirts, decorations
To secure the date, a $100 non-refundable deposit holds the date.
When the rental contract is signed, a 50% down payment on the rental fee is required.
The balance of the rental fee is due the date of the event.
A cleaning/damage fee of $250 is due 30 days prior to the event. If no damage has occurred or the event is cancelled, the damage deposit will be refunded.
If the event is canceled 180 days prior to the event, a portion of the rental deposit will be refunded.
The final bill must be paid in full the day of the event.
Check, cash, or credit card may be used to pay your bill. A deposit must be paid in advance with a portion down before your event. Payment must be received in full by the end of your event.
If Suncrest Gardens is involved in providing food for you event, we take priority in using our kitchen space. Approved outside caterers can utilize an area for staging, water and electricity.
List of approved caterers…
Steakshop Catering Winona, MN
Four Sisters LaCrosse, WI
Looking for someone else? Ask us and we can see if we can work with you.
Guest count up to 100 people $1000
Guest count over 100 people $1,250
*add 5.5% tax
24 x 24 Dance Floor $350 (installed by Suncrest on concrete platform outside barn)
Bartender Service from Suncrest Gardens
Wine and Beer ordered through Suncrest Gardens and chilled/stored on site for your event
Ice For Kegs
Farm Tours
Ask for pricing and request these items at least 4 weeks in advance.
Beer and wine may be purchased through the farm only, per Wisconsin law. No liquor is allowed. Depending on the beer, microbrew, or style of wine you desire, I can provide pricing for your event.
Wood-Fired Pizzas
Seasonal Salads
Garden Salsa or Hummus and Corn Chips
Cheese Tray
Fresh Veggie Tray & Homemade Dill Dip
Melon Bowl or Tray seasonal
Pasta Salad
Coffee, Tea, Lemonade, Well Water
And more…let's talk!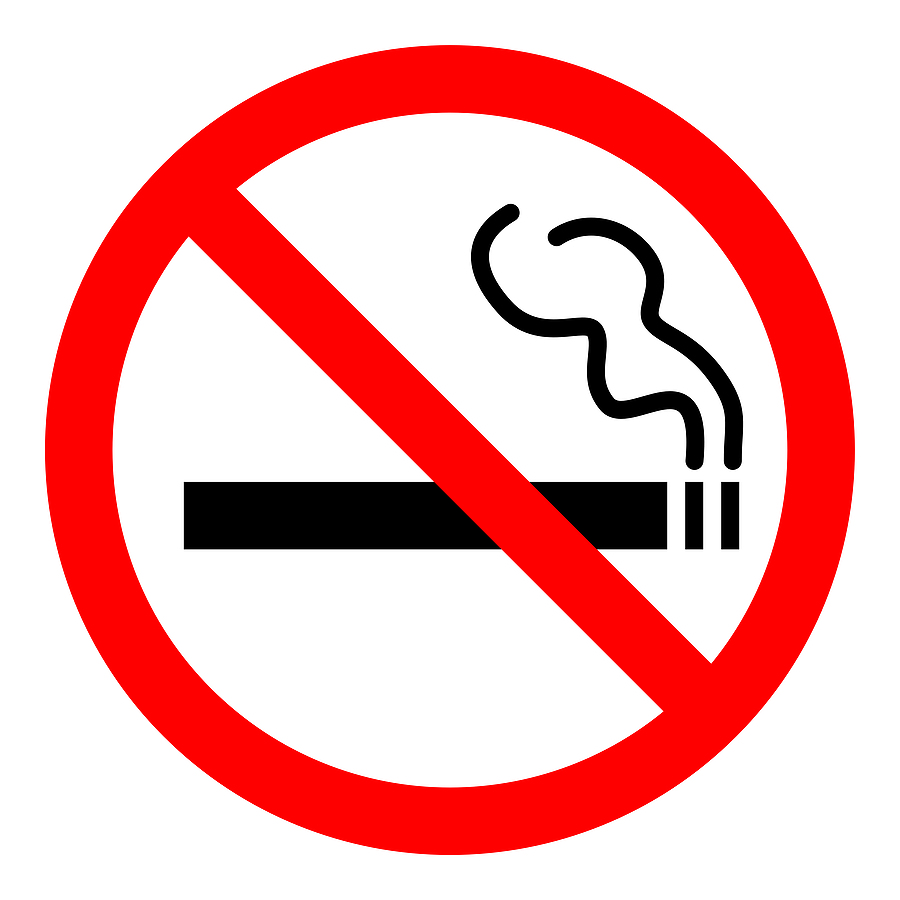 Smoking is discouraged on the farm, but is only allowed in a designated area with cigarette disposal.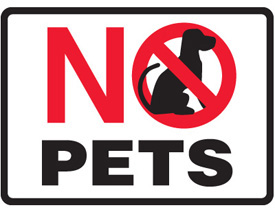 No pets or animals allowed, unless a special exception has been granted by farm manager.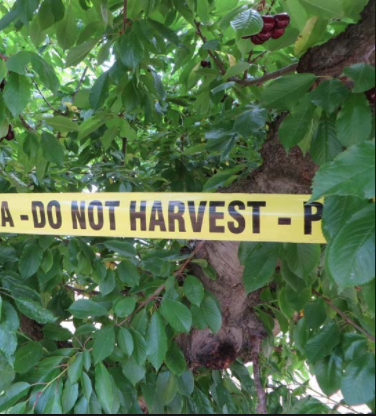 No walking in the dirt pathways in the garden or harvesting crops.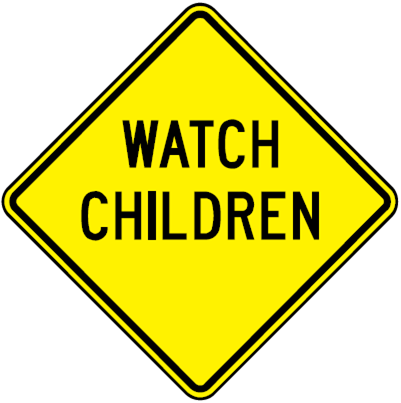 Watch children carefully as many dangers exist on a farm. Stay off of rocks, wood piles, and farm equipment. Beware of electric fences
What months do you recommend for a wedding?
May can be unpredictable, but our barn does have heat as a backup. We have hosted smaller (less than 75 people) in the barn for May wedding receptions. May can be sunshine and grass, or as in the past May of 2013, 8″ of snow which would make an event here quite challenging. By June, things typically settle into a more calm weather pattern. Normal summer weather could be expected late June through early September. If you are choosing local flowers, remember frost can happen after mid September.  I would not suggest planning an outdoor event past mid October unless you are a gambler or are planning on having a smaller wedding here on the farm utilizng the barn space.
Where have people exchanged their vows on the farm?
We have had several vow exchanges under the picnic shelter in the center of the yard. We've had another couple create theater seating looking towards the flower gardens with the campfire area decorated as their backdrop. There is also a very nice afternoon shaded area by our greenhouse/root cellar that allows for people to have seating and decorations for the ceremony a little off to the side of the main yard area. Afterwards, people migrate towards the barn to begin their celebrations and cocktail hour. Remember, I can give you examples based upon my experiences with crowd control and previous weddings on the farm but it is ultimately your event and I want it to reflect you.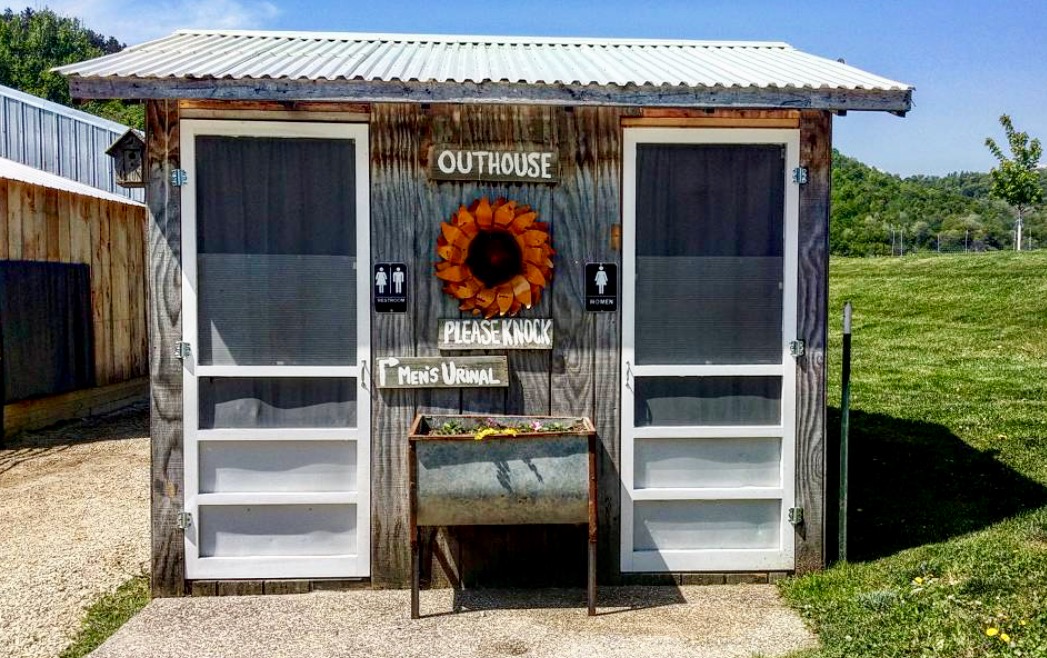 We have a three stall composting outhouse on site. One stall is for women, one is unisex, one stall contains two men's urinals. The outhouses are clean, smell fresh and are maintananced by Suncrest staff throughout your event. There are Christmas lights in the outhouses for nighttime lighting. The floor is lineleum with a wooden shelve for your personal items. There is no running water but hand sanitizer is provided. If a port-a-potty is desired, you can rent one from Jul's Johns and have it delivered to the farm ahead of time. You arrange this on your own. No bathroom facilities are provided for wedding guests inside the farm home.