In order to be more inline with our organic philosophy and to reduce our use of chemicals in all forms on the farm, we have built a two stall composting outhouse for people to use while at the farm. It is cleaner, more aesthetic, and does not smell like a traditional port-a-potty. And the extra bonus is that all excrements are composted through a heat cycle and two year decomposition process which creates a dirt like substance which will be used on flowers and trees, not any vegetables here at our farm.
So instead of using a toilet, we use a bucket system, which is essentially a five gallon bucket. After doing one's business, aged local sawdust is sprinkled on the bucket's contents to prevent odor, add carbon, and absorb liquids. (Believe me: it really does keep down odor.) Humanure can then be dumped into compost bins, that are used soley for the humanure system, where it decomposes and cures after two years. After this time, you are left with nothing but purely organic matter, something quite like dirt. We had readings up to 130 degrees F after a week in the compost bin. As long as the humanure goes through its natural heating process and is given enough time to decompose, there should be no fear about the spread of pathogens and the material can be used as a soil amendment. It's that simple! It's nature at its finest.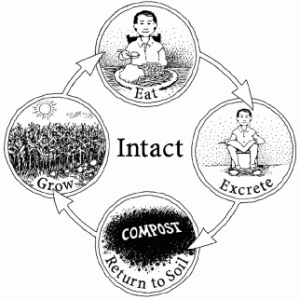 After using the humanure system for over two years, I am amazed at the interest and delight that the farm visitors have had with using this system.
Suncrest Gardens Composting Toilet Directions
 SIT ON TOILET SEAT
MAKE YOUR DEPOSIT
ONLY ADD PAPER INTO TOILET
COVER WITH SAWDUST
SMILE…YOU SAVED WATER & RECYLCED!
TELL SUNCREST GARDENS IF TOILET IS NEARING FULL
For the full details on humanure and making your own humanure system, I highly recommend The Humanure Handbook, which is actually available for free online (in multiple languages, no less!) Human waste is someting to be embraced (well, ok, not literally), and recycled, not flushed away to continue polluting sensitive water tables.
Other Active Humanure Users Across the Globe…yes it is used worldwide!
Watch Video of Loveable Loo…this is a great explanation of the building process and using this type of system.