Are you considering a farm wedding? Do you desire a more casual wedding where the focus is about you as a couple and the sharing of your special day with friends and family?
Suncrest Gardens Farm offers a working farm that centers around growing real food in a sustainable way while providing garden habitat and space for community to gather in our beautiful peaceful valley. You can tell that this land is loved and cared for every day. Flowers, gardens, a terraced lawn, and farm animals all come together to create our sacred place. Many have began their marital journeys here, including ourselves. Suncrest Gardens Farm is a natural environment that reflects our stewardship values, love for the outdoors, and life a little less commercialized.
If you feel that our farm may fit your desires, contact Heather to see if a date is available. We limit the amount of weddings here at the farm to allow each of them to be especially catered while still allowing our active farm to maintain its daily operations. We are proud to support all forms of love between people who want to celebrate their commitment to each other.
Suncrest Gardens Farm Rental Includes:
private use of yard and gardens around the barn area, barn, and picnic shelter

evening campfire (check with tent rental company to O.K.)

backyard music available (via Pandora or your Ipod)

playground area

farm manager on site during event

trash, recycling service: please separate garbage

2 composting toilets

power and lights for band/DJ in picnic shelter

2 parking attendants 1 hr prior to your event

walk-through tour (1hr long) to help with event planning

area available inside basement of house for wedding party only per prior request
Suncrest Gardens Farm Wedding Rates (add 5.5% tax)
up to 50 people $500

up to 100 people $750

up to 200 people 

$1,000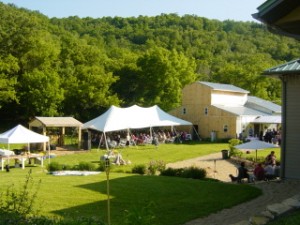 Outside Caterer $250
Allows use of kitchen space, some walk-in cooler space, electricity & water usage
*available only if Suncrest Gardens is not using the kitchen space for food preparation
Alcohol
No Carry-In Alcohol is allowed. Wine and Beer must be ordered through Suncrest Gardens LLC, 3 weeks prior the event.
We will provide licensed bartender/s at an hourly fee if you serve alcohol.
Kegs and white wine ordered through Suncrest Gardens LLC will be delivered to the farm for precooling.
Hours
Set-up may begin at 8am
Event ends by 11pm on Saturdays (or Fridays on non-pizza nights). Allow 1 hour for clean-up afterwards.
Event ends by 10pm on Sundays. Allow 1 hour for clean-up afterwards.
An hourly rate of $75/hr for clean-up will be charged and taken from the deposit starting at 10am the next day.
Deposits & Payments
To secure the date, a $100 non-refundable deposit holds the date.
When the rental contract is signed, a 50% down payment is required.
The balance of the fee is due 60 days prior to the event. A cleaning/damage fee of $250 is due 30 days prior.
If no damage has occurred or the event is cancelled, the damage deposit will be refunded.
If the event is canceled 180 days prior to the event, a portion of the rental deposit will be refunded.
The final bill must be paid in full the day of the event.
Rules
Smoking is discouraged on the farm, but is only allowed in a designated area with cigarette disposal.

No pets or animals allowed, unless a special exception has been granted by farm manager.

No walking in the dirt pathways in the garden or harvesting crops.

Stay off of rocks, wood piles, and farm equipment. Beware of electric fences.

Watch children carefully as many dangers exist on a farm.
Other Offerings
8′ Tables are available for rent $10 each, limited number
Dance Floor, 18′ x 24′ near picnic shelter by petting zoo $360
Your Responsbility:
plates, silverware, napkins, cups, glasses
table covering
table decorations, flowers, candles
yard decorations and additional lighting such as christmas lights or tiki torches
tents
tables, chairs
yard games
dessert and handling of wedding cake
Additional Insurance Required
You should obtain a certificate of insurance which you can get through your homeowner's insurance or Wed Safe online.
This will cover your event and is often available for no/minimal charge through your homeowner's insurance.
The insurance shall be a combined single limit policy in an amount not less than $500,000. The insurance must show
Suncrest Gardens LLC as the additional insured.
Other Vendors
Tent Rental Mar-V-Les Tents 608-626-2001
Majestic Tents & Events 507-876-1127 www.majestictents.com
Steak Shop Catering and Wedding Rental 507-452-3150
Food Options from Suncrest Gardens…Buffet Style
Wood-Fired Pizzas $19-$25 each ~$5.50pp 16 slices per 16″ pizza; 4 people/pizza
Mixed Salad Greens ~1.50 pp
Garden Salsa and Chips ~$1.75pp
5 Cheese Tray: cheddar, swiss, colby, curds, havarti depends on choosen varieties: basic, local, and gourmet options
Fresh vegetable tray & Dip ~$2pp
Melon Bowl or Tray seasonal
Pasta Salad ~$1.50pp
Coffee, Tea, Lemonade, Well Water $.5pp
Prices Available Upon Request…Additional Food Options Available
Local Food Sourcing
I will either try to grow many of your food needs for the event or source them through other local producers. These local foods will be incorporated into the foods you request above or can be sourced by me and you can deliver them to your caterer to utilize in your menu.